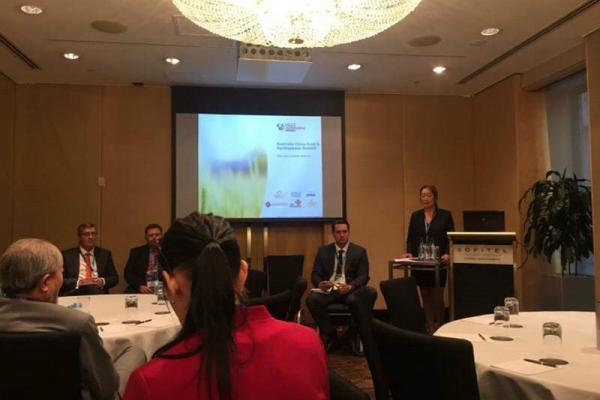 Stella Lee - AMPC's Industry Development Manager – attended the ACBC 2016 Food & Agribusiness Summit on the 2nd November, 2016. She spoke during a meat and livestock workshop seminar in regards to the risks and realities of meat exports to China, with a focus on the Beef industry and how Australia is best placed to respond to its declined share of beef exports. It also aimed to provide a forum for attendees to ask questions and seek feedback on challenges and opportunities relative to the red meat industry.
Stella touched on a recent delegation in which AMPC was joined by the China Meat Research Centre, along with the Chinese Ministry of Agriculture. This delegation was led by the Department of Agricultural and Water Resources under Bilateral Engagement and Regional Trade Negotiations for Trade and Market Access.
Some important comments made in this meeting include:
China's beef and mutton sales are on the increase.
Chinese are now demanding high quality meat.
The Chinese want proof that the meat is safe, as well as "clean and green".
And 1kg per capita increase in consumption of meat per year is 1.3MT of supply.
To best respond, AMPC and the China Meat Research Centre are looking to create joint research and development programs.
Some of the suggested programs include:
Rapid non-evasive detection of quality – particularly provenance and counterfeit.
Promotion of Australian brand beef as high quality & high value.
Increasing China's consumer market awareness.
Alignment of China and Australia's meat eating quality standards/coding.
Database information.
Market research on China's consumers, market insights.
Mutton and beef processing and testing knowledge sharing.
These joint research and development programs will ultimately benefit not only the red meat industry, but continue to contribute positively to the Australian economy.