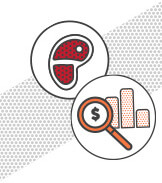 Red Meat Industry comes together for whole supply chain benefit;
AMPC Board supports the MLA's unprecedented industry initiative of "industry-wide accelerated roll out" of DEXA technology (DEXA150).
On Tuesday, the AMPC Board sat at its scheduled board meeting where one of its tasks was to formerly consider the written request by the Meat & Livestock Australia (MLA) to support their ambitious project and to jointly fund the proposed $150 million plan for the "accelerated roll out of DEXA technology" to interested AUS-MEAT accredited red meat processing plants.
In its capacity as the red meat industry research and marketing body and donor company, the AMPC Board of directors were unanimous in their support of the proposal, commending the MLA for their boldness in bringing this plan to consideration for the whole of industry benefit. The Board recognised that this is a project of unprecedented scope in the wider Australia Agricultural Research and Development Corporation's history and were mindful of the thoughtful and prudent nature of the decision making required.