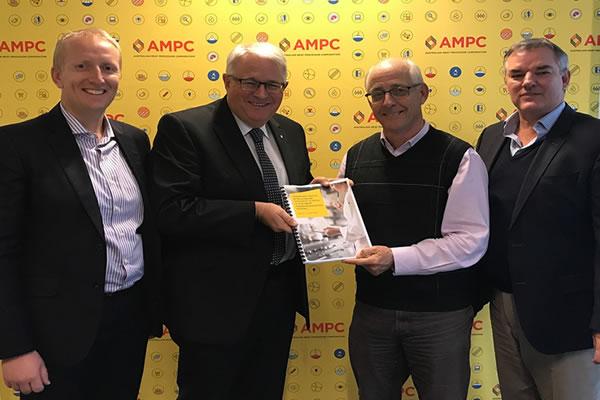 EY's Independent Review of proposed installation of DEXA in AUS-MEAT registered processing facilities concludes with Australian Red Meat Industry in unison on need for industry wide collaboration on OCM technologies.
Red Meat Industry is calling for collaboration across the supply chain to realise the many suggested benefits of OCM technologies
The Report raises important questions pertaining to the complexity of the proposed industry wide roll out of DEXA technology
The Report poses key suggestions as a pathway forward for industry to follow EY has today released the Final Report detailing its Independent Review into Meat & Livestock Australia's (MLA) proposed $150m investment in Dual Energy X-Ray Absorptiometry (DEXA) technology.
The Australian Meat Processor Corporation (AMPC) and the Australian Meat Industry Council (AMIC) co-commissioned EY to provide an Independent Review in February 2017 in response to the MLA's proposal of November 2016. AMPC welcomes the many findings and recommendations of the Independent Report and thanks all industry stakeholders who provided valuable feedback to the extensive review process.
"The red meat industry has spoken – with both producers and processors seeing many exciting benefits that OCM technologies could bring to our industry," said AMPC Chairman Peter Noble.
"The primary purpose of this review was to provide a fact-based assessment of the proposed DEXA rollout by MLA. By commissioning this independent review, we wanted to hear from a cross section of stakeholders engaged in the red meat supply chain about what DEXA and objective carcase measurement (OCM) would mean to them. EY has successfully delivered on this task, and we stand ready with industry to provide the research, development and education in support of their voice and to answer the many questions raised by the review." Mr Noble said.
Independent Review Leader Andrew Metcalfe AO said his EY team adopted a consultative and evidence-based approach to formulate its observations and recommendations.
"We have engaged extensively with major industry bodies, independent experts, and directly with a number of large and small producers and processors. We strongly recommend that these initiatives are taken forward as consultatively and collaboratively as possible given the significant transformational change that is being considered by the proposal," Mr Metcalfe said.
Since co-commissioning the report with AMIC, the AMPC is encouraged by the MLA's plans for a smaller $10 million roll-out of DEXA projects in four of its members processing plants funded by individual processor companies with matching Government contributions1. (1 The matching Government funds are delivered through the MLA Donor Company, not producer levy funding through MLA.)
"EY's independent review, along with these $10 million pilot installations, will also help provide the industry with the fact base and greater certainty that the red meat industry requires to make important investment decisions supporting widespread adoption of DEXA technology," Mr Noble said.
This report was originally provided to AMPC and AMIC on 5 June 2017, and distributed to a limited number of people. Following that, and after a conversation involving AMPC, MLA and us on 9 June, we have now included more specific information about the current use of DEXA to inform OCM, and particularly to measure LMY. This appears at pages 15, 51, 52, 54 and 137.
For the Final EY Report click here.