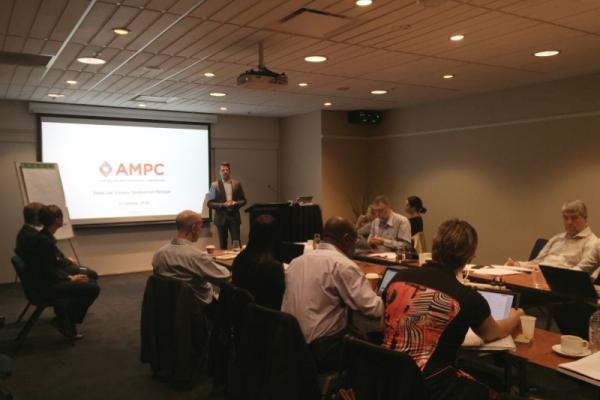 Chris Taylor - AMPC's Finance & Commercial Manager - hosted the latest Research and Development Corporations Business Managers Meeting on the 12th October, 2016 at the Australian Technology Park in Eveleigh.
Through the RDC Business Managers meeting, the Council of Rural Research and Development Corporations (CRRDC) brings the 15 RDC's together to work on issues of common interest. In their role as the service providers within the Australian rural innovation system, the Rural RDC's deliver economic, environmental and social benefits for rural industries and the broader community through strategic research, development and extension activities.
Chris had the opportunity to introduce AMPC's strategic plan, 'A Feast of Ideas', which will be available in late October 2016. Tim Lester provided an CRRDC update on strategic RDC matters, Ralph Martin (RSM) spoke on Technical Accounting and The Department of Agriculture and Water Resources gave their update, including upcoming funding opportunities. Prof. David Brown and Dr. Nicole Sutton also joined the meeting from the University of Technology, leading an interactive workshop on managing open innovation.
The RDC Business Managers meeting is an invaluable opportunity for the finance and business managers of the RDC's to meet together, along with representatives from the Council of Rural RDC's and government, to discuss common opportunities and challenges facing both the Research & Development community and their respective industries. Hosting the event has allowed AMPC to share insights into the development of its strategic industry risk assessment process and also the "Feast of Ideas" sustainability report, which will underpin the organisations activities in the coming years.