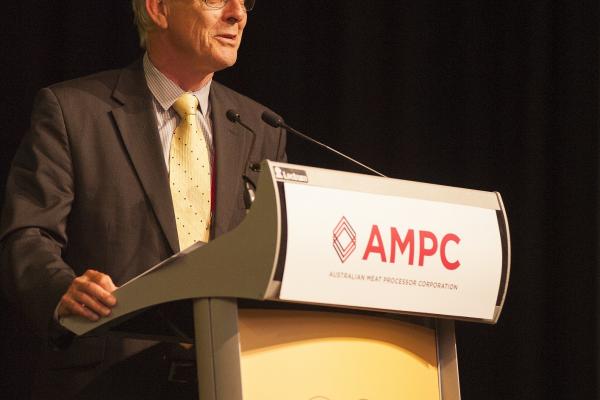 After two days of discussions and presentations, by more than 35 industry experts from around the world, red meat industry delegates who attended the Vital Ingredient Sustainability Conference, hosted by the Australian Meat Processor Corporation (AMPC), should have a fresh perspective on their role in helping to create a sustainable industry.
The Vital Ingredient Sustainability Conference, the first to be held by the AMPC, was attended by a gathering of meat processing industry stakeholders to provide a platform where members, scientists, academics, consultants and producers could share some of the research, information and best practice that will help build a thriving industry.
The conference was a sequel to the industry's "Feast of Ideas workshop" held earlier this year that sought fresh inspiration for ensuring the long term sustainability and profitability of the red meat processing sector.
"The Conference was one step the AMPC has taken in a year long journey to enable Australia to build the most sustainable red meat industry. It has been encouraging to have spent the last two days with many industry experts who are proactively leading industry innovation and capability developments for their stakeholders and communities," said AMPC Chairman Peter Noble.
The first day gave delegates a preview of the latest research and innovation in meat and food science, and showcased the latest in sustainability and technology. However it was the topic of international competitiveness and the regulatory environment – two of the six industry risks identified from the Feast of Ideas workshop - that dominated the agenda.
Yesterday's program involved a high caliber of speakers who shared with 200 delegates their experience and opportunities in addressing the remaining four industry risks.
Professor Wendy Umberger from the University of Adelaide shared interesting insights into how food labelling is leading to misinformation amongst cynical consumers and what the industry is doing to change consumer perceptions around how ethical the meat has been produced.
Dr Aarti Tobin from CSIRO Agriculture and Food shared her insights in to how mega trends, such as an aging population and consumer perceptions on the health benefits of red meat, has shifted consumer demand. Their research helped delegates understand how other stakeholders are researching and looking to change poor consumer sentiment around red meat.
On the topic of climate change, Professor Richard Eckard from Primary Industry Climate Challenges Centre, posed a strong position on how climate change will impact livestock production in Australia, whilst Nobel Peace Prize winner, Professor Mark Howden from the Australian National University, spoke about what is happening with climate change and its effect on the livestock industry, why such changes are occurring and the likely future changes.
Simon Crean from the Australian Livestock Exporters' Council lead discussions on the industry's risks associated with the topic of social licence to operate. Mr Crean gave a powerful speech about animal health, animal welfare best practices and shared his experience on how to make the industry one of the best in the world. Sophie Hansen, 2016 RIRDC Rural Woman of the Year winner shared with delegates how the industry can use social media to better create a social licence to operate by building trust and engaging in conversations with communities.
To whet appetites before lunch, guests were treated to a light hearted but competitive 'Ready Steady Cook' Celebrity Chef Live Demonstration where Alastair McLeod lost to Janelle Bloom's chargrilled skirt steak creation.
Opinions on a fragmented value chain were the final presentations of the day where Doug McNicholl, from Meat and Livestock Australia (MLA), demonstrated the key areas of MLA's involvement in value chain integration activities and the role of the MLA donor company in driving adoption of R&D, through partnerships with stakeholders. Meanwhile University of Southern Queensland Professor, Alice Woodhead, gave an interesting insight into the potential for a value chain integration into the Asian food supply chain.
Wrapping up the conference, Mr Noble said he hoped the conference will help to encourage everyone, build their confidence, give them tantalising, exciting new ideas as to how we can all grow our businesses sustainably and provide a useful roadmap for the hard work we still have to do to keep winning.
"It's clear to me that one of the ways we'll make the red meat industry sustainable is to engage our local – and broader – communities and stakeholders in a lively dialogue. We want to become more open and transparent. We want to answer the tough questions. And we want to tell some of the great stories that exemplify what we do."