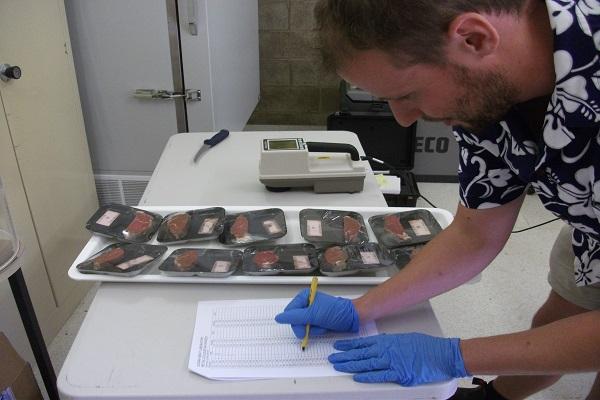 Dr Benjamin Holman, PhD graduate from the University of Tasmania is the proud recipient of the 2017 ABARES Young People in agriculture Science and Innovation Award.
Ben received this award for his project that will test a new colorimetric instrument called the NixTMPro Colour Sensor to see if it can be used to measure dark cutting.
As Ben explains, this project is the first to explore the capacity of smart device integration with NixTMPro Colour Sensors to provide an accessible, easy to use and replaceable technological alternative for dark cutting and colour evaluation.
Dark cutting is the term used for meat that does not bloom or brighten when it is cut and exposed to air.
Customers prefer beef cuts to be bright red colour in shops and avoid dark coloured meat, making it less valuable.
Dark cutting is thought to occur in 10 per cent of all beef carcases at a cost of more than $36 million a year. Currently most meat is classified in abattoirs using subjective manual measures.
Until recently the only alternative has been expense scientific instruments that were impractical in messy abattoirs where everything needs to be hosed down at the end of the day.
But the NixTMPro Colour Sensor could deliver colour measurements comparable to exiting technology worth thousands.
If successful, the technology could make it easier to do repeat, accurate measurements of meat quality with minimal training and could be used to estimate other useful measures of carcase quality.
Cowra based Ben says he is looking forward to working more closely with industry.
'It's good getting out there and having a yarn with industry because you tend to learn more about the issued and the gaps that need to be filled', he says. 'It gets me out of the office to where the action is.'