It was with great pleasure that Mark Richard, Meat Industry Teacher, TAFE Queensland was presented with the 2018 Eddie Andriessen Award at this year's Meat Inspection and Quality Assurance (MI&QA) Conference in Surfers Paradise.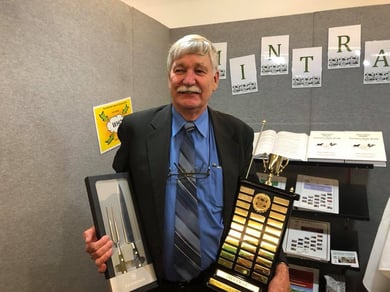 Mark Richard, 2018 Eddie Andriessen Award winner
Mark has been employed in the meat industry since 1974, working in a number of leading roles. As a manager in the Queensland Government Meat Regulation Authority, Mark played a leading role in introducing Quality Assurance in the meat industry including being involved in developing Q-Safe Standards and Australian Standards for hygienic meat production and transportation, introducing score-based quality assurance monitoring systems in Queensland, and providing technical advice to numerous industry advisory committees.
The Eddie Andriessen Award was set up to recognise Eddie's services to the meat industry as well as acknowledge the services and skill of meat inspectors and quality assurance officers and the importance of their role in the Australian meat industry. A panel of representatives from AMPC, AMIC and the MINTRAC Board choose the winner each year.
The award was introduced at last year's MI&QA conference with MINTRAC Senior Project Officer, Clive Richardson being the inaugural winner. This year's nominees are once again representative of great depth of knowledge and skill of meat inspection and quality assurance personnel in the industry.